Tenants and Gardens: Who is Responsible for Maintenance?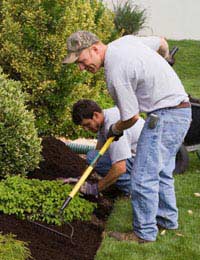 When a tenant is checking out a home, unless they are looking at a high rise flat as their preferred housing option, a well-kept garden or outside space of some description does tend to add a certain amount of extra appeal. This is quite amusing, really, given that most property landlords will agree that when it comes to the upkeep of a garden or communal area, it seems to be last on the list of priorities. Even the most conscientious tenant, who keeps a spotless house and looks after the inside of the property as if it were their own, can turn a blind eye to a weed-infected garden or unkempt lawn.
Social Housing Rules
Most council and housing association landlords have rules that specify that their tenants must keep their gardens to a 'satisfactory standard' as part of their tenancy agreement. What actually constitutes 'satisfactory' can vary from one opinion to another however and there are rarely set-out lists of things that a tenant must do in order to satisfy this clause of their agreement.
What is Reasonable to Expect from a Tenant?
If your tenants have a garden to themselves, it's reasonable to expect them to maintain the garden themselves. Or at the very least get someone else in if they aren't keen on gardening. The minimum you should really be able to expect from any tenant living in your property is that it should be kept litter-free, reasonably tidy and not overgrown. If there are hedges they should be kept trimmed, especially if they are likely to encroach onto neighbour's properties or public areas. Grass should also be cut regularly.
In the case of rubbish – there could be comeback if a tenant lets rubbish build up on the property and it becomes a health and safety risk. Any build-up of litter, old furniture or rubbish can also attract vermin, which might result in even more expense getting pest controllers in to sort it out.
What if the Tenant doesn't Garden?
It's the experience of most property landlords that the garden is not usually kept as tidy as they might like – tenants seem to avoid gardening where possible and even a neat and tidy space can turn into an unloved weed-fest over a reasonably short period of tenancy.
If gardens are an important part of the property for you, you could follow the example of one landlord who decided the way forward was to employ a full time gardener for all of his properties. Fed up with watching his carefully designed garden spaces turn into weed-filled wilderness, he decided to employ a local gardener to carry out basic gardening duties such as hedge-cutting, lawn mowing and keeping the gardens looking tidy. This only works if all the properties have accessible gardens and an outside tap for any watering, but it is an option for anyone frustrated with the lack of effort that tenants have made to keep up the outside areas.
Some landlords take a stricter line with their tenants and prefer to stipulate that the tenant has a responsibility to look after the garden or else they will be penalised. If there is a clause in your tenancy agreement that forces your tenant to look after the garden, you can also introduce penalties for not doing so – withholding part of the deposit to pay for the garden to be tidied properly when they move out, for example.
If the garden is especially important to you, it's probably worth going down the route of hiring a gardener, especially if you own more than one property. You could either add the cost of the gardening to the amount that you charge for rent, and offer a tenant a discount if they agree to do their own garden, or simply add it on and let the tenants know that the gardens are maintained. In many cases, having a 'maintained' garden will probably be a selling point so you might find that this actually works in your favour.
Another top tip is that longer term lets are a better option for garden upkeep – a short term tenant is likely to be able to turn a blind eye to the state of the back garden far more easily than someone who is there for a year or more, because most normal people get to a point where, even if they hate gardening themselves, they will get it sorted out just because they cannot bear the sight of an unkempt garden anymore!
You might also like...
Hi I have lived in my home as a council tenant 29 years ago, When i moved in there was and still is a huge Conifer tree, The council cropped it about 15/20 years ago. Now my new neighbours have complained to the council about the tree and want it chopped down if not cropped. The council sent round an independent tree specialist, He told the council there is no need for the tree to be chopped down completely ( as i like my tree, stops neighbours from seeing me in my garden) But where it was chopped previously by tree surgeon he didn't do a very good job because now instead of One trunk we have two competing against each other where the tree surgeon cropped it and it can be a problem. So now the council are telling me that's it's down to me to crop it and pay thousands of pounds to do so. My argument with them is not only do i have thousands of pounds in my bank, But why did they crop it years ago and their surgeon done it wrong and now i have to pay! please help. They have given me 3 months to crop the tree... Please hELP!
Dawn
- 4-Nov-20 @ 3:39 PM
My son lives in a housing association flat.His neighbour who owns her flat claims that every time a tenant in the block puts discarded furniture in the garden she is charged to have it taken away.Is this true?
Ros
- 29-Sep-20 @ 4:17 PM
My partner rents a garden flat from a private housing association and has a very beautiful, tall, ever green tree in the garden. The neighbours behind him have recently built a huge extension and have approached the housing association to have the tree removed, I believe because it blocks natural light and they are offering to pay for it... Access through his flat is the only way that the tree can be removed, he doesn't want it removed as it offers privacy into his flat, its beautiful and healthy... what rights does he have? Any advise greatly received!!!
ASP
- 23-Sep-20 @ 12:04 PM
In 2017 after many calls to my housing association they finally ordered my neighbour to cut down a very large tree that was feet away from my patio door, the roots from the tree dislodged the patio flags and the gardens are built up from rubble from the flats that were demolished the gardens are very slanted, the roots from the tree pushed up this rubble exposing rocks boulders glass ect, I have 3 broken mowers and 5 strimmers that have broken when trying to tidy the garden, I asked the person that mowed my neighbours lawn to maintain my garden but whenhe realised how bad it is he said he couldnt rick his equipment..I complained involving my local MP who told them to make the garden safe, Ive also contacted the housing Ombudsman 3 times each time the housing have been told to do the repair, All i knew was about a doz people have been to inspect the garden all reported back its a hazard, but i never see any of them again, I assumed the maintenence was from their own department so contacted them..2 men came and what they have done is beyond belief because if it was dangerous before its more so now.I could only show how bad it is via photos..The maintenence department admitted the men that came really didnt know what they were doing and it would be rectified..But again no one has been back, I have gone through all the right ways of complaints in the past 3 years and still were i was if not worse than i was 3 years ago, Ive fallen umpteen times tripping on old roots or large rocks sticking up from the soil..Im in a nice area and expected to maintain a garden that many times has been declared un managable and a health hazard..Im now at a point i dont know where to go from here..Im ignored, My daughter fell yesterday shes an adult and suffers neurological problems she was so close to her head hitting a 2 foot high plank of wood stuck upright in the middle of the garden left from the ridiculous repair, Even the men that didnt know what they were supposed to do slipped 3/4 times whilst bringing sacks of stones dropping and scattering the stones everywhere If they cant balance how do they expect me to maintain it..
wendii
- 14-Aug-20 @ 12:13 PM
We are council tenants and our house is connected to the house next door who are buying there home we have lived here for twenty three years with no problems they moved in a few years ago . since then we are constantly being blamed for the problems with there home even though it has nothing to do with us just so they don't have to pay for anything to the point we feel we are being harassed as it seems to be one thing after the other and the council has sad they can do nothing as they are buying their home is this true and can we do anything about it
Mags
- 3-Aug-20 @ 11:27 PM
I rent a council property with a rotten portche broken safety glass and a garage a few feet away from the house which has been condemned twice and is dangerous and falling down but council say it's not their responsibility because it's not on the Tenency it's impacting on my mental health because of the health and safety of it being left to fall down I'm on the sick and it comes under the nuisance act it's making me more I'll have the council got a responsibility to take the garage down and fix the portche?
Bully
- 31-Jul-20 @ 12:02 PM
My daughter is due to view a council house but the gardens have about 2 skips full of rubbish in them including mattresses and furniture, bags of rubbish and gas cannisters to name a few. It looks like a fly tip. Will the council have to clear it or will it be upto her if she accepts the house?
Pjd
- 27-Jul-20 @ 5:47 PM
is it reasonable to expect a tenant to paint the garden fences,as he has sais that he wishes to be a long-term tenant?
wozza
- 23-Jul-20 @ 3:18 PM
I live in a Council rented Bungalow, it has a back garden.but there is no garden gate. I quite a few thing that needs to go in the skip and the only access is through the Bungalow. Should there be a assess gate to the garden or not.
Kittisha W
- 17-Jul-20 @ 12:08 PM
Hello, I own a flat in a large building but do not own any garden... the garden belongs to flats 2, 4 and 4. They are charging me for cutting and trimming a hedge on the side of the road as a letter was sent from the council requesting this. The people in my house aren't very trust worthy and have caught them trying to get extra money out of others before. Just wanted to see if anyone knows what I can do? If I do have to pay for it because a bus can't past? I own none of the land only my flat.Have asked to see letter from council but he still hasn't given it to me. Just taken the money out of matinance account.
Hi Been in our rental for 12 months Was mentioned that a granny flat was to be built Nothing added to lease by landlord/real estate We had a boundary fence across a back yard they have their own entry and exit Issue is water and electricity is being connected off our rental Went away was emaile with excavation was happening got back and the back yard has been trenched up the middlebroken cement pathway pices thrown on yard all uneven just an absolute nightmare to look at requestedcompensation /waiver of rent no go said the reply but lease was terminated with out penalty I still have 6 months left on new lease and no money to move Not even a apolige for inconvenience I am so sick of landlords having the upper hand with lease agreements Will be going Tribunal for compensation because this is now about legalities.
Gordo
- 26-Jun-20 @ 11:08 PM
Does anyone know if window cleaners have to ask permission to come into my garden to clean flat above windows, They just walk in unannounced and don't even ask.
Kg84a
- 26-Jun-20 @ 11:42 AM
Hi my landlord has left us without a garden for 5months as she has dug front garden up to get a drive and tipped rubble in back garden to level it out and hasn't come back for nearly 5months I'm now moving out next month cause we need a garden is there anything I can say to the estate agents regarding our issue with garden
Ricksta
- 15-Jun-20 @ 9:46 AM
I do not have a lawnmower or strimmer and I'm a council joint Tennant, can I ask the council if they can cut my grass & if they agree for a set fee is this advisable,
Hammer
- 11-Jun-20 @ 4:30 PM
We live in a rented property, with our own garden. At the very back there is a wall that is over grown with ivy. In the high winds part of the wall fell down the back which is at least a 30ft drop into a shipping yard. The neighbour has complained and contacted our landlord to sort his through insurance as it took some of her wall too. He has said that insurance won't pay out as it's something that needs to be maintained by us. But we can't cut it back due to not being able to get to the ivy to do so. This was there before we moved into the property but are now being told it is to come out of our pocket to sort this not the landlords. Is this right, can any one help with this please as we are looking at a large sum of money to sort this
Vicki
- 10-Jun-20 @ 12:23 PM
I live in a downstairs flat which Ihave bought, oppositeme is upstairs flat and I believethe tenant rents propertyfrom private landlordhis grass has never been cut since I moved in apparentlythe people I bought mine off cut his grass I do not need a lawn mower as I have know grass.I have asked if he intends to cut it, he is not interestedis there anyway this can be done, what is the best courseof action.
Littlelegs
- 6-Jun-20 @ 4:53 PM
Hi I live in a private rented property and have a small enclosed garden which i maintain myself regularly but also to the outside of the property there is a large grass verge going alongside the property which is overgrown but as it is a such a large area I fi d it extremely difficult to keep it tidy and the grass cut,I asked my council if they would cut just the once but they said it's on private land and it would be up to myself or my landlord to cut it,I have already broken my lawnmower due to this and are afraid of using my newer one incase the same thing happens,I cant afford professional gardeners to do it and my mother also lives at the property and she is elderly,what can I do please help or advise me on the best options,I feel very embarrassed when I see people walk past this long they must be thinking. Thanks Stuart
Polly
- 31-May-20 @ 7:33 PM
I live in first floorflat 8 flats in the block Been here 6 years now gardensbut housingassociation did put a seating area (a bench) Whichhas been damaged from previoustenants But this year decided toput some plants in pots to brightenup the area Using the outside tap to water them 2 weeks later housinghave turned off the external water I really don'tunderstand how wateringa few plants warrants this Very upset
Cookie
- 27-May-20 @ 10:46 PM
I am a secured tenant and I have been in the property for over 6 six years. I am in a secured tenancy it has a whole garden for myself and I live in a ground floor masionette. The neighbour upstairs does not have a garden. In my tenancy it states I need to maintain the garden. Can the council partition half my garden, so the neighbour upstairs can have it. The tenancy for upstairs will state no garden. the neighbours on my left have half a garden, but the neighbours on the right all ground floor flat masionette has there own garden and upstairs has no garden. Can you please advise and what I can do. Thanks
I rent a 3 bed house with Waterloo housing asosiation. I have a small garden with 4 over grown silver birch trees, they are blocking sun light into my kitchen. Do I need permission to cut them down&pull them out or can I just go ahead with the task. X
Criggy
- 25-Apr-20 @ 2:59 PM
Hiya when we first looked are proterty back 5 months ago landlord promise the garden would be cleaned and made use able but hasn't kept too this the garden is a mess and I don't mean long grass and weeds
Cher
- 21-Apr-20 @ 6:53 PM
Me, my wife and 17 month babe been living in our council flat for about a year half now, the neighbours have been quite the nightmare to put it politely, smoking week there 11 year dropping cee you next Tuesday words and doean't slam doors she slams door repeatedly. Slamming doors about six times in a row and screaming, we have complained to the housing officer and she has ignored our emails and ignored our complaints. There is a slope that joins along the steps, because It goes through her garden they have decided that we can no longer use that path any more. And the sad thing is that the housing officer and council are agreeing with her despite my wife being 19 weeks pregnant
Matt
- 11-Mar-20 @ 4:23 PM
I live in a block of 6 council flats with a communal garden. One tenant has part of it completely fenced off which also includes a side gate for access to the block. Is this illegal?
Rosie
- 8-Mar-20 @ 5:52 PM
hi i am in h\a\house and a tree in the back garden h\a\ sent me a nasty letter saying they need to cut it down 40% that will make it to hot in the garden in the summer & i will get blazzing sun through the windowsmy eyes suffer with strong sun light so i will have to were sun glasses in the kitchen & dining room .i think the reason theyreally want to cut it down is a neighbour 4 doors up said its spoilingher satalite picture .but this neighbour we had a problem with she was in my next door neighbour gardenand she swore at us sayilng them f ___trees are coming down.t his letter says i am breaching my tenacy if i dont have it chopped down .also i have a tall conifer tree can they make me chop it help and avice needed s
jem
- 29-Nov-19 @ 8:59 PM
We live in a housing association flat. 7 years ago we got written permission from the landlord to garden a bed on the edge of our carpark area - we would plant & maintain the area, at our expense, ie no cost to them; and they would leave the area to us to do this. A month ago I came home to find the landlord's maintenance men had been round. They trimmed the hedges that we don't maintain to 3-4ft; but took a hedge trimmer to our (obviously differently planted) area, chopping it, indiscriminately, down to a few inches high. There was no warning, no reason given. Some of the shrubs are unlikely to recover. I believe this to be criminal damage, and since they took away the cuttings, theft. The police say as it was the landlord's land they are perfectly entitled to do this. Is that the case?
john
- 27-Nov-19 @ 5:46 PM
I've just rented a cottage that was advertised as own rear garden,but there is a path right thru it ,so neighbour's can walk through it, it leads to exactly to the same place as the front path ,at front of house ,I have the neighbour's dog crapping in my part of garden kids running around ruining all my solar powered lights, so therefore is it not a communal garden ???? So angry as hml lettings did not state this when we was viewing it
Dee
- 19-Nov-19 @ 7:12 PM
I live in a council property and when I initially saw it the garden was cut down with rubble glass etc left at the top of the garden it's now 4 years later and my garden is now rife with weeds as I could not clear all weeds due to rubble. I have been to Mps several times and now court however even though the council are liable they are only willing to do the minimum which will leave me in same place because my solicitor said I had no chance at winning in court.
Char
- 28-Oct-19 @ 3:07 PM
I'm renting a ground floor flat. I am the only one with access to the garden and My landlord said if I work too much I need to employ someone to do the garden for me. Is that the responsibility of the estate agent to pay for this or do I have to pay out of my own pocket?
Kat2408
- 3-Oct-19 @ 1:35 PM
I live in a converted house, there are two flats, ground floor and first floor, the landlord is a housing assosiation, on my tenancy agreement it states i have no garden, the tenant downstairs complained that i do not maintain the front garden, the housing officer turned up and said i have to maintain the garden as it is shared, he said as my refuse bins are in the front garden it is classed as a shared area, i only use the path to enter the building, the path is in the centre of the garden, i explained that i am willing to sweep the path and keep my bin area clean but he insists i have to maintain the garden to which i refused, who is right?
East
- 16-Aug-19 @ 2:09 PM
I am renting a property with a large garden with tall mature trees that need attention Am I responsible for the cost of a tree surgeon or should the landlord pay for this service? I'm maintaining the garden at my own expense but quote for the trees are expensive
Jay
- 14-Jul-19 @ 2:11 PM