Letting a Property to Students: What to Look For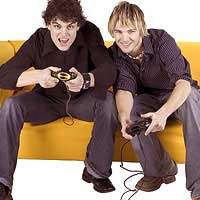 Letting out a property to students is a lucrative business if you own the right property. The number of students in the UK is rising fast – and in the ten years from 1997 to 2007 the number of students rose from 1.8 million to 2.5 million. It's not only UK students that are on the increase, either. There has been a 67 per cent increase in the number of foreign students studying in the UK in the same period, and foreign students are expected to make up 21 per cent of all students by 2018. Of course, they all need somewhere to live.
You need to weigh up the pros and cons of a student let carefully – although in term time you can make a good profit from letting to students, you need to factor in the empty summer months too. The rules and obligations upon you as a landlord are also different when you rent to students, as the property will be classed as a House of Multiple Occupancy (HMO) if you have more than one student living in it. You're responsible for paying the council tax on an HMO too.
What do Students Look For in a Property?
The obvious thing is that students will prefer to live near their university, and their friends. Research the area and see if it's already popular with the student population if you're thinking of becoming a student landlord.
Students also like to be close to local amenities – it's a cliché but is there a pub nearby? What about convenience shops and takeaways? All these things make a property more appealing to students who are unlikely to have their own transport. The property either needs to be close to amenities or close to public transport links.
Finding Student Tenants
The best way to find student tenants is to register with your local university's accommodation office. Most of these will allow you to register for free or for a small fee, and having your details on the local university database gives you a head start – the most savvy students will approach the university before they start looking around at letting agents.
Using a university accommodation service also means that you can choose students who have been recommended by the university. This can give you extra security; as if they cause problems in the property it could also put their university place in jeopardy.Always ask for references – and if they can't give you bank, employer or previous landlord references, you are within your rights to ask a parent to be guarantor instead.
Managing a Student Property
When your students move in, give them all the information they need about local amenities and also set out their responsibilities – such as keeping noise down, the correct rubbish and recycling rotas, looking after the property, how the heating and other utilities work.Get the tenants to sign an agreement which includes a clause that if one of them moves out, it is up to the others to find a replacement, or cover the cost of the empty room between them.
Make sure the plumbing is adequate for heavy use and that any shared white goods are good quality as they will be heavily used. It's your responsibility to replace and repair any white goods that you provide in the property so it makes sense to go for the best quality you can manage.Draw up an inventory to cover everything in the property, which mentions the condition of the carpets, walls and light fittings too. Ask tenants to sign it on arrival and also use this as a checklist when they vacate the property. Make sure that they understand they are responsible for paying for any repairs, cleaning or decoration needed when they leave.
You might also like...
I am Brazilian and a previous owner of an English language school in Sao Paulo. I now live in London but still have close contact with numerous schools in Brazil, and I know of lots of students that wish to come to London to study. This has given me the idea of possibly starting up a business providing accommodation for visiting students, planning and organising their trips etc. I have the idea, and I know I have enough contacts to make it work. But obviously the biggest hurdle I have is finding a venue. I really don't know the legalities of it here, is it possible for instance to rent a house for the purpose of using it as an HMO for business in the UK?
Van
- 22-Sep-16 @ 2:43 PM