Tenants from Hell: What Could Go Wrong?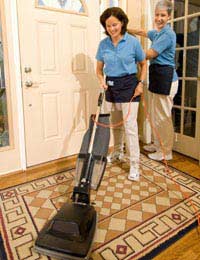 What's the worst case scenario if you decide to become a landlord? Non paying tenants? Damage to the fixtures and fittings? A huge cleaning bill? You might think so – it's unlikely that you'll ever have to go through what landlord Christopher Browne did though.
His flat was the scene of a murder. Christopher let several flats to students, including Matthew Pyke, who was stabbed 86 times by German David Heiss, in an argument over a computer game. Heiss was jailed for life in May 2009.
The flats became a crime scene and tenants were moved into alternative accommodation – at the landlord's expense. Cleaning the flat cost £1500, and the flats became un-lettable due to their history. Who wants to live in a flat where a fellow student was murdered?
Thankfully, it's unlikely that this is going to happen to you, if you decide to become a landlord. Brutal murders over computer games are mercifully rare in this country. But a tenant from hell can make your life a misery.
Real Life Situations
Letting agents have some horror stories that will make every landlord's toes curl.
One human rights savvy tenant refused to vacate a property for 12 months – and also refused to pay any rent while he was there.
One landlord was faced with trying to evict a woman who was running 'massage parlours' which attracted visitors all night long.
A professional con man rented one property using a false name and carried out a number of credit card frauds and benefit cheats. The authorities and landlord have still not been able to track him down.
One clearly disgruntled tenant took the entire contents of the property – carpets included - and left everything in a big pile in the garden.
A group of pyromaniac tenants who were clearly bored decided to set fire to everything in one property – this included floorboards, doors and skirting boards. They even took the plaster off the walls so that they could burn the wooden batons behind.
How Can You Stop it Happening to You?
You never know if the butter-wouldn't-melt tenant in front of you is harbouring secret urges to set fire to the flat or murder their house mate. But there are common sense precautions you can take.
Set up a meeting with your prospective tenants before you agree to anything. It gives you a chance to vet them, see if you think there is anything 'shifty' about them and generally get to know them. Gut feelings are much maligned – if something really doesn't feel right about a prospective tenant, it's your property, and you don't have to let it to them.
At the meeting, take their personal details, any contact numbers and find out a bit about their personal circumstances. Why do they want to move? Do they have any pets or children? Are they smokers? Do they have references? Take note of their answers and see how they react. For example, if they won't go into why they are moving, it could be a nasty break up but equally it could be that they were evicted from their last property.
It's also interesting to judge how prospective tenants treat your property when they are there simply as a visitor. Do they assume they can smoke? Are they respectful of the furnishings, wiping their feet etc? Do they put their feet up on the sofa or coffee table? This is how your home and any furnishings will be treated. Beware!
Getting a Good Reference
A reference is vital – but can you rely on it? Make sure that the references are genuine – contact the referees. Remember that if they are a pain, their current landlord probably can't wait to get rid of them, so they will give a perfect glowing reference. Try asking the landlord before last instead.
If there's no history and no references because this is a first time, ask for a guarantor instead. Go through the same security checks for a guarantor as you would the tenant. For a self-employed tenant, ask for references from clients if there is no employer reference available.
You might also like...
I have a house with four different lodges. I do not live in that property. One of the lodgers in a small room which is only enough to a single person is pregnant now and seems to be planing to continue stay in the room with the baby. What is the most suitable procedure to evict that lodger as i cannot allow two people, in this case mother and a baby live in such a small room. Please advice me. Thanking you
sam
- 14-Jul-15 @ 12:10 AM