Pre-Tenancy Checklists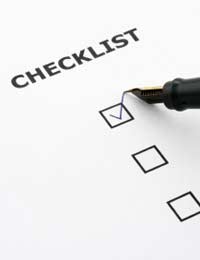 If you've got the property ready, and you're thinking about letting it to a prospective tenant, there's a list of things that you need to have in place before you hand over those keys!
Make Sure That You Know as Much as Possible First!
If you or your letting agent has done the paperwork properly, you should be able to tell a lot about the potential tenant before they move into your property. You will have carried out all the reference checks – employment and income, identity, previous landlords reference if possible, maybe a personal reference and obviously a credit reference. This won't tell you everything but will at least give you a good idea about their character and their likelihood of paying the rent!
References may not always tell the whole truth about a potential tenant so use your common sense and if you're in any way concerned, say no. It's your property.
If you're faced with an over keen prospective tenant looking for somewhere immediately, be wary. These tend to be the type of tenant that you really need to check up on before you let them move into your property, so don't take pity on them until you have everything you need reference, paperwork and money wise!
Agreements and Payments
Always insist on a full month's rent in advance from a new tenant, ask for the tenancy deposit up front and never, without exception, give a prospective tenant the keys to your property until you have the payment cleared in your bank.
Don't let anyone move in without signing an official tenancy agreement, and make sure that the agreement you keep hold of has original signatures on it. Before you start the tenancy, make sure everything essential is covered in the tenancy agreement, including any conditions such as whether pets are allowed or smoking is permitted in the property. Also make sure that your agreement is up to date as the law changes frequently – for example a standard tenancy agreement form that was printed prior to 2007 would not carry details about the tenancy deposit scheme so would not be legal.
When you take your deposit, you need to protect it through a government authorised Tenancy Deposit Protection Scheme, so make sure that you have this set up before you get to the point where you're signing contracts.
Before the tenant moves into the property, get a completed standing order form from them for the rent.
Timescales
If you're letting the property to people that you don't know, it's best to fix a short initial tenancy term, six months for example. You can make the agreement a rolling contract after this time, which automatically renews unless you or the tenant gives notice. This way you have the benefit of knowing you have a tenant for at least six months, but aren't stuck with them if they turn out to be trouble.
Housing Benefit Tenants
If you've decided to let your property out to a housing benefit tenant, ask them to give you a letter of authority which authorises you to speak to the local authority about details of their application. This means that you can liaise with the authority when it comes to the amount of rent you're charging, and find out about some details of their history, although the Data Protection Act may prohibit some information being given out, even with a letter of authority.
You might also like...
I think you need to insure your car under all circumstances now, even if you have declared sorn, & it is off road.
Melfish
- 27-Sep-15 @ 10:24 AM
@nat - the car is not your landlord's property to dispose of, so legally he can't do anything and he certainly can't get it scrapped. I'd look in your terms and conditions of the property rental agreement as it could have something in there which means he could ask her to move it.
Ali
- 9-Mar-15 @ 11:04 AM
Hi my boyfriend has his car parked in my mums drive because it's got no tax or insurance. The landlord is getting funny about it and threatening to get it scrapped even though it's on finance. Can my mum do anything to prevent this happening with her been the one who's paying the rent?