Tenant References and Checks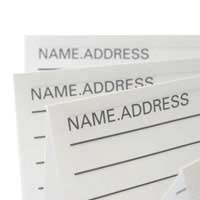 When you're letting a property out to a complete stranger, you need to be secure in the knowledge that you've taken all possible steps to avoid problems and 'tenants from hell'.
The first thing you need to do is gather as much information from your potential tenant up front, before you even think about signing any agreement or letting them moving in. If you're letting through an agent, there are usually tenant checklists and a prescribed list of questions and references that have to be obtained before anything formal is agreed.
Which References Are Important?
You need to be sure that your prospective tenant has the means to pay the rent, so of course it's vital that you approach their employer for a reference. If the tenant is self employed, ask for a reference from an accountant, or in some cases you might insist on a guarantor if there are no references available from former landlords. It's also a good idea to call people named on written references just to avoid any possibility that the references are forged. Of course, most tenants are trustworthy, but you don't want to be caught out by the few that aren't.
Run a credit reference agency check too, just to be sure that your prospective tenant isn't likely to be followed to your property by a list of creditors and county court bailiffs!
If You Use a Letting Agent
Don't be complacent if you're using the services of a letting agent to find a tenant. As with all businesses, some letting agents are more reliable and thorough than others so you need to ask them exactly what their vetting procedures are.
Make sure that they will carry out all the essential checks and ask whether they follow up references with phone calls to employers or accountants. This will at least give you some confidence that they aren't trying to put 'just anybody' into your property to get their commission. It's especially important if you are only using the letting agent to find the tenant rather than as a full management agency...because once your tenant is in and their commission is earned, their work is done.
If You do the Checks Yourself
If you decide that you'd prefer to handle all the checks and work yourself, you will have to make sure that you cover everything and choose your tenants carefully. Things that you should be especially careful about when taking on a new tenant include:Are they who they say they are? It's perfectly acceptable to ask if you can see their passport or a photo driving license, and some proof of address.
What is their employment status? In today's climate nothing can be guaranteed, but are they on a permanent contract or temporary? What's their past employment history? Can they afford the rent – ask about income and if you're not sure you can ask for proof by way of a pay slip or an accountants reference if they are self employed. If they are from overseas, ask to see their work permit to make sure they are working here officially.
If the prospective tenant is self employed, you should ask to see their accounts or at the least get an accountant's reference. If you're still not happy, ask for six months rent in advance.
If the prospective tenant has rented a property before, ask for a reference from their past landlord, and this is one you will definitely find it worthwhile chasing up.
Final Checks
References can be less than honest, so you also have to rely on your own gut feeling when it comes to choosing a tenant. If something about a tenant doesn't quite ring true, or you have a bad feeling about a tenancy, it's your property so you don't have to let them rent it!
You should always ask for a month's rent in advance and the tenancy deposit up front, and agree that the keys to the property will be handed over as soon as the payment clears.
You might also like...
Two Pillows - Your Question:
If a trouble some tenant on the verge of eviction tries to rent a further property and has given her present landlord name as a reference provider, where do I stand. Morally I could not give a good reference just to move this bad tenant on.If I give a true reference the new landlord will refuse to accept the new tenant and I stuck with her and the forth coming court fees.HELP
---
Our Response:
I do feel for your dilemma here. However, keep in mind if you give a dishonest reference then legal repercussions could fall on you if the subsequent landlords were to find out your tenant was being evicted at the time of your false-positive reference. I can only suggest you highlight to your tenant that she goes elsewhere for her reference providers. This gets you off the hook from having to give a reference and lets her know that she will have to find an alternative reference route if she wishes to find somewhere else to live.
ThePropertyLandlord
- 6-Sep-16 @ 12:32 PM
Ifa trouble some tenant on the verge of eviction tries to rent a further property and has given her present landlordname as a reference provider, where do I stand. Morally I could not give a good reference just to move this bad tenant on. If I give a true reference the new landlord will refuse to accept the new tenant and I stuck with her and the forth coming court fees.HELP
Two Pillows
- 5-Sep-16 @ 6:04 PM