Finding a Housemate: A Guide to Sharing Your Home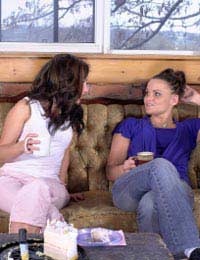 If you have a spare room, and want to make some extra money by sharing your home with someone, it might come as a surprise to know that you probably won't have to declare this handy source of extra income to the tax office. As long as you don't charge your lodger more than £4250 a year, you can pocket the extra cash with a clear conscience.
You can either rent out a room or a whole floor, or charge for laundry and food if you like. As long as the room you're renting out is furnished, not a separate flat, and you live in the same building, you qualify.
As long as your landlord agrees, you can offer a room in a rented property and the same rules will apply. Just make sure that you check with your landlord first, although they aren't allowed to refuse your request to sub-let without good reason.
Finding a Lodger
It's easy to find someone to share with. People who might have bought their own place a few years ago are trying to save money and build up a decent deposit for when the housing market eventually recovers, and diverse working patterns mean that Monday to Friday lets are also more and more common.
A friend, or someone you know makes an ideal lodger – they are less likely to cause any problems. Sarah from Suffolk rented a room in her three bedroom house out to a friend's sister for a year, and found that it was a brilliant way to make extra money but was also good for company.
"My old lodger and I are still friends today, despite the fact that she used to leave her washing up for days on end. The key to making it successful is setting boundaries and agreeing them beforehand. She paid a set amount for the room and we shared the phone bill. I gave her a cupboard in the kitchen and a shelf in the fridge, and if she wanted to have her boyfriend to stay, she would always ask out of politeness but I never said no."
One place to find a lodger if you don't have any friends looking for a place to stay, could be one of the many room mate finding websites. Make sure that if you do find your lodger this way, you do all the same checks that you would if you were letting out the whole property. You have to share your living space with this person, it's vital that you can trust them and get along with them.
Fractional Renting
Judy Niner from Oxfordshire set up MondaytoFriday.com a room-share agency specialising in weekday lodging, after her own weekday rental arrangements proved successful. Fractional lodging suits people who work away from home during the week and prefer the familiarity of returning to their own room in a shared house instead of an impersonal bed and breakfast. It's up to you how much you offer. Dean from Sussex shares a two bedroom flat with William, who is on a long term contract away from home, from Monday to Thursday nights. It suits both men as Dean gets £12 per night from William and William gets the use of the room and to come and go as he pleases.
Dean found William on a room mate finding website and was surprised at how many responses he got to his initial advert.
"I had three people enquiring about the room after I'd agreed to let William have it – and William called within hours of the room being advertised."
Things to be Aware of
If you own your home, make sure that you inform the mortgage company as soon as you take on a lodger.
Let your home insurance provider know that you have a lodger too – if you don't tell them and your new lodger disappears with all of your valuables, you'll find that your policy is invalid.
Set boundaries from the start. If you are happy for guests to come over, that's fine but it's your home so you decide. Be clear about what the rent covers, and how you expect it to be paid. Set rules about smoking.
If you need to ask the lodger to leave – either give them the agreed period of notice as set out in your agreement, or if there is no formal agreement 'reasonable notice' in writing. Once you've done this, the lodger should get the hint and move out. If they don't you are within your rights to change the locks, and put all of their belongings out on the street. Hopefully it won't come to that...
You might also like...
Hi there, Have been asked to take on full tenancy of a two bedroomed flat with a view to sub letting the second room. Landlady tired of the churn and hassle involved in having two separate tenants. I'd be in the position where I'd have paid a deposit with the landlady and a sub tenant a deposit with me. Is that a ok? Would I be liable for the full amount council tax? What tenancy agreement would a sub tenant and I need? What tenancy agreement would the Landlady and I need? Any assistance in making things clear very much appreciated. Thank You James Horne.
James
- 13-Apr-15 @ 7:27 PM