Renting to Students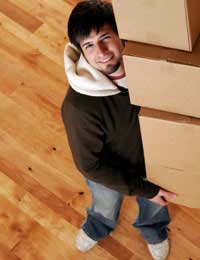 Letting out your house to students has long been seen as a good but-to-let investment idea, and it's always going to be a popular way of making money from rental. If you live in a town or city with a thriving student population, it could be a way to make some significant money from your property.
To be able to let your house to students you'll need to be in an area that's popular with the student population, the areas that attract them are usually close to the universities and colleges themselves, and within easy reach of all the local amenities (and pubs).
City centres are also becoming popular with students, with purpose built university apartments now being offered with en suite facilities, and now much more affordable.
Is the Student Rental Market Saturated?
Because of the current property market, some landlords are turning to students for their income, where previously they might have targeted professionals and working couples. This results in more choice and often lower rents for the lucky students – but means that potentially you might have to try harder to make your own property more appealing to students who are being spoiled for choice.
Bigger universities are also starting to offer students purpose built living accommodation close to universities, and while some students love this kind of arrangement, some prefer the fun of setting up a house with a group of friends and living there instead, so there is still money to be made.
Location Location Location
When you're looking for a potential property to rent to students, it's vitally important that you pick the right area. It's not just about whether the house is close to the campus, but also proximity to public transport, bars, and the usual amenities. It might help to make some enquiries at the university to work out where the man areas are for student accommodation so that you can keep your eyes open for when houses come up for sale in the locality.
When you're looking for the perfect student house to let, big Victorian style properties which can accommodate eight or more students tend to be very popular, as well as the more fashionable two-bedroom city centre apartments in city centres which tend to find favour with the older students.Avoid areas with a bad reputation – check crime statistics. It's a fact of life that student houses are a popular target for burglars on the lookout for laptops and other sellable technology.
What are The Rules For Letting to Students?
There are a number of laws in place which aim to regulate the student market and improve the standard of housing that students can expect. These laws were introduced to try and stop students being exploited by unscrupulous landlords. There are also university accreditation schemes governed by local councils and universities.
All student accommodation needs to comply with the current Housing Health and Safety Rating System (HHSRS) regulations, which state that student accommodation must be assessed and rated for health and safety. The rating system is monitored local councils, and if you fail to comply you could be penalised. The regulations cover:
damp
temperature – too cold or too hot
pollution from asbestos, carbon monoxide, and lead
bad hygiene
sanitation and water
structural collapse, explosion hazards.
You'll also need a Houses of Multiple Occupation (HMO) licence, if you are letting a house with five or more people living over three or more floors. There's an annual fee for registering your property as an HMO, too.
An HMO is also defined as a building, or part of a building, which is occupied by more than one household. It also has to:
have shared bathroom, toilet or cooking facilities,
be a converted building which may contain, but is not entirely, made up of self-contained flats, or;
be converted into self contained flats, but does not meet the requirements of the 1991 Building Regulations - and at least one third of the flats must be occupied under short tenancies.
If you are renting to students, it's usual to offer them a six-month minimum assured short hold tenancy (AST) agreement, and for the contract to cover the full academic year
You might also like...