Insurance for Landlords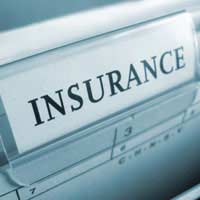 The first thing you need to know about insurance as a landlord is that you must make sure you have consent from the insurer of your property to let it out. If you don't get permission, you could find that they declare your insurance completely void when or if you try to make a claim.
Buildings Insurance
Some insurance companies may refuse to give you insurance cover if your tenants are deemed to be high risk – these tenants include students, multiple occupiers, and benefit claimants. If you do get cover, it sometimes costs more so it's wise to shop around.
If you are letting your property to students or benefit claimants, you need to make sure that your buildings cover includes a minimum of £5m worth of cover for employer's liability before the local authority or university will authorise the tenants to live there. Check that any policy you take out also includes property owners liability cover for a similar amount, which will cover injury, death or damage to individuals on or adjacent to your property.
Some buildings insurance policies also give you a certain amount of cover for any malicious damage caused by the tenants – but this isn't standard so you might have to do some research.
Contents Insurance
You'll have to find an insurer that specialises in insuring rental properties, but most specialist insurers have suitable policies for furnished properties, and also for the limited contents in an unfurnished property.
A limited contents policy would suit an unfurnished property, and these usually give you a fixed limit to cover everyday fixtures and fittings like white goods, carpets and curtains, often on a new for old basis. Most of these specialist services are tailored towards landlords, and give a landlord employer's liability and landlords liability cover – but only in relation to the contents and not the building.If your property is rented out on a fully furnished basis, take out a full contents policy. You can usually choose an amount to insure the contents for.
Legal Assistance Cover
This type of insurance policy is more and more vital for landlords as the economic climate means that tenants are hitting hard times. If your tenant loses their job, their business fails or they are ill, it will affect their ability to pay rent and your ability to cover your mortgage payments.If they have to be evicted, or you need to recover lost rent through the court system, it will cost money both for the court documents and the solicitor's fees. A legal assistance policy can be a wise investment given that the average cost of taking out possession proceedings can be in excess of £1000.
Rent Guarantee Insurance
Another must have in a recession – a rent guarantee insurance policy covers a landlord for non payment of rent for any reason. This type of policy has the added benefit of also being tax deductible, and guarantees that you will always receive the rental income you are expecting from your property, despite what happens to your tenants. Under this type of insurance policy, you'll get your rent paid, and usually the legal fees that you have to pay out to get possession of the property back again.
They don't last indefinitely – you can usually specify that you would like cover for six or 12 months.
Emergency Assistance Insurance
Accidents and emergencies happen, and this is the type of cover that you need if there is a minor emergency at your property.
This type of policy usually covers you for life's little curveballs such as the electricity failing, the cooker going wrong, plumbing emergencies, lost keys or leaky roofs. You'll usually be covered for parts and labour cover up to an amount that's laid put in your policy, and there will be a helpline for you to call to get 24 hour assistance with domestic emergencies.
You might also like...