Furniture and Fire Regulations in Your Let Properties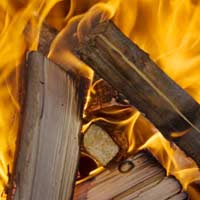 It's not only gas and electrical appliances that must be maintained and kept safe for your tenants; there are also regulations that govern the types of furniture and furnishings that you are allowed to supply in a rented property.
The Furniture and Furnishings (Fire) (Safety) Regulations 1988
The laws governing fire and furniture safety were brought in to make sure that any furniture and furnishings supplied in a property that is rented out are fire resistant and that they won't produce fume-filled smoke if there is a fire in the property. Sometimes, furniture also has to pass a test for match and cigarette resistance.
All furniture or furnishings that you supply with a furnished house when you let it out have to be clearly marked with a label showing that they meet all of the necessary standards. All new furniture that is subject to the law should come with a label already attached, but over time, safety labels can be lost, removed or damaged. It doesn't matter if they originally complied or not, you must be able to demonstrate this with the safety label. If you rent out the property after the labels have been lost, you should either have the furniture re-tested or replace it.
What Else Does the Law Say?
The legislation was passed in 1997 and states specifically that all furniture in tenanted residential property "has to comply with the 1993 amendments to the Furniture and Furnishings (Fire) (Safety) Regulations 1988 which extends the scope of the Consumer Protection Act 1987 (CPA)."These regulations cover supplying, hiring or lending of upholstered furniture and some furnishings, if it takes place in the course of a business. It applies equally if you are renting your own home or buying to let, although if you rent your home out temporarily you may be exempt if the rental is not part of a business and does not form your main source of income. Check with your local authority if you're not sure.
What Are the Prescribed Items?
The regulations apply to:
Arm chairs, three piece suites, sofas, sofa beds, futons and other convertible furniture.
Beds, bases and head boards, mattresses, divans and pillows.
Nursery furniture
Garden furniture which could be used indoors
Loose, stretch and fitted covers for furniture, scatter cushions, seat pads and pillows.
Excluded Items
The regulations do not currently apply to:
Antique furniture or furniture manufactured before 1950
Bed clothes and duvets
Loose mattress covers
Pillowcases
Sleeping bags
Curtains
Carpets
What Should a Landlord Do?
Failing to comply with the regulations is a criminal offence. If convicted you could receive a fine of £5,000 for every item that doesn't comply, six months imprisonment and even manslaughter charges if a death results. You could be sued by the tenant for damages, and your insurance may be invalidated.
If your tenant complains, or worse if there is a fire and an issue is raised about the compliance of the furniture with the regulations, you can defend any claims that are made against you by the defence of "due diligence" – which means that under the circumstances, you took all reasonable steps to avoid committing an offence . To be able to use this as a defence you'll need to have evidence showing what you did and the steps you took.A private owner letting out their own home could use this as a defence but a letting agent would not be able to claim the same thing as they would be acting in the course of a business.
You might also like...
Under uk safty law is it ok to used mdf skirting boards in a rented property??
Dazza
- 9-Oct-20 @ 5:18 PM
I am about to rent out my property. have a sofa with a fire safety label dated 1996. Would this comply with current legislation? Or should I get rid of the sofa? Thanks
Harriet
- 5-Sep-20 @ 12:38 PM
On my inventory 2 years ago some of the furniture had no fire labels and was listed saying no fire labels where do I stand if I want this replacing and does it have to be replaced to same quality or can he give me anything
Davey1
- 10-Aug-20 @ 7:17 PM
To confirm then, curtains to not apply and do not need to be fire safe? I have customised curtains which are handmade so they don't come with fire safety label or anything but from the article it appears that the regulations don't apply to it?
Tash
- 15-Jul-20 @ 7:22 AM
I would like to give our daughter an old25yr?sofa for her flat . It does not have a fire safety label. She may wish to go travelling in a couple of years and would wish to rent out the flat . would this sofa prevent her from doing this ? Many thanks
CJS
- 8-Jul-20 @ 12:26 PM
Can you tell me does this apply to property rentals in Scotland as I moved in 18 months ago and did not check if there was a label on the sofa I only realised this when I contacted a charity with the landlords permission to get the sofa taken away that they could not take it as there was no label so had to pay for someone to take it away as bought my own sofa. I did say I would leave a sofa when vacating the property but assume it is NOT my responability to ensure that it has a label as woud be buying second hand and would he be liable for taking it away to keep him within the law.
OAP
- 30-Jan-20 @ 12:04 PM
Hi, can you tell me if there are companies that can test soft furnishings for fire safety compliance. I work in the property industry and we request landlords to remove furniture but it would be easier for a company to inspect and test. Thanks
John
- 28-Oct-19 @ 10:06 AM
I have an antique knole sofa. I am renting out my property and I need advice 're sofa. Can I fire proof it. Can it be checked for fire safety.
Mands
- 18-Oct-19 @ 9:27 AM
Sofa has no fire label. Who can retest for fire resistance, please?
Rad
- 3-Oct-18 @ 10:42 PM
Do these regulations mean that a new wooden bed frame or wood bed furniture of any kind including headboard can not be used to offer a furnished bedroom?
Deni
- 1-Oct-18 @ 2:48 PM
I'm interested in the discussion as to whether old soft furniture will be accepted after treatment with fire retardent spray.
Stephast
- 26-Aug-18 @ 9:58 AM
Will old soft furniture be accepted after treatment with fire retardant spray? If so , who will test it?
Bea
- 20-Aug-18 @ 3:19 PM
Hi do rented shops suppose to have fire doors please x
Lindy
- 13-May-18 @ 9:57 PM
What is the guidance for rugs and carpets - are they excluded from the fire safety regulations in rental properties?
No thanks!
- 11-May-18 @ 7:51 AM
I have a pre 1950 four poster bed with a sprung base.There is no flame retardancy labelling on this.Can I put it in a let property?The mattress is recent and carries the BS7177 compliance label. Thanks
How do I stand legally if a tenant introduces furniture which does not comply with regulations?
Jessie
- 5-Oct-16 @ 10:23 PM
How can I get a sofa retested, the fire safety label is missing after the last Tenant checkout ?
BB
- 11-Mar-14 @ 11:15 PM
'If you rent out the property after the labels have been lost, you should either have the furniture re-tested or replace it.' Further to this statement - can you recommend anyone who re-tests?
Louisa
- 26-May-11 @ 12:41 PM