Taking in a Lodger - the Pitfalls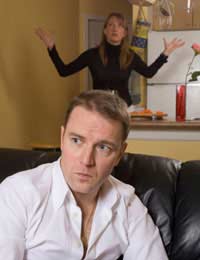 The first and most obvious thing that you need to think about when you're considering taking in a lodger is whether you realistically believe that you will be able to cope with sharing your house, living space and personal life with a stranger.
Maybe the person you're considering taking in as your lodger isn't a stranger, in which case you might be able to feel more secure in the knowledge that you do at least know something about the person you're going to be living with. But even sharing with someone you already know has its issues and problems.
Trusting Your New Lodger
There are some strange people out there, so if you are letting your room to somebody that you don't really know too well, you have to ensure that you've done all of the relevant checks on them before you give them a set of keys. Run a credit check online, and if possible, ask for a reference from a previous landlord or an employer. If they are decent and have nothing to hide, this shouldn't be a problem. Remember that this person and potentially their friends and family will have access to your home and everything in it.
If you're somebody who values being alone and having your own space, having a lodger around could become your own personal nightmare. You'll have to adapt your behaviour to the lodger – walking around with no clothes on; having a long soak in the bath, playing your music loud, even choice of TV programmes could be restricted.
Providing Services and Facilities
As a landlord, even just to a lodger, you'll be expected to provide certain things under any tenancy agreement you make, whether you go for the belt and races official agreement or a verbal one.
If you take in a lodger you will be expected to provide bathroom and kitchen facilities – whether you are offering an en-suite bedroom or sharing one communal area. You'll have to think about everyday things like leaving washing up lying around, which cupboards the lodger can use, and rules about who buys milk and using each other's food! Arguments over who used the last of the bread can make or break a relationship between a landlord and lodger.
Although the health and safety, gas and electric, and environmental health regulations won't specifically apply to you as they would a full landlord, it's worth doing them anyway.
The Financial Pitfalls
You might assume that having a lodger can only be a good thing for your finances, but there are things that you need to be aware of right from the start.
Renting out a room in your property may have an effect on your contents insurance. You'll find that your premiums will most likely go up, but don't be tempted not to tell them as if you do get the lodger form hell, if you have to make a claim for damaged furniture your policy may be invalid if you haven't mentioned your lodger.
If you are in receipt of benefit, taking in a lodger will affect the amount you can claim. In the case of housing benefit the amount you get will almost certainly be reduced because they will expect your lodger to be paying rent. If you decide not to tell them about your lodger, you could find yourself having to repay an overpayment, or even be prosecuted for fraud.
Falling Out With a Lodger
When you are living under the same roof as another person, you are bound to have areas of conflict. Legally, although you don't need a formal agreement when you take in a lodger, it's always best to have some form of agreement and/or some house rules to refer to, so that if a dispute should come about, you have something there to back it up.
You might also like...
Re lodgers a caveat. If the rent includes all bills be very careful. My last lodger really took the mickey. He used far over the amount of electricity that would be expected. He would drain the tank when showering and the water bills also rocketed. ( 10 minute showers are far too long and unnecessary) He was in the house far more than I had expected and way into the night every night was on his PC - monitors burn a lot of power. Overall I did not charge him enough for bills. He grumbled about the WiFi even though we had excellent speeds and wanted to fit extra gadgets which I did not want. Be very careful with lodgers as it can turn out to be a nightmare. they want to do just as they please as if they were living alone. Really grill them about lifestyle before you offer one a room. Washing can also be very contentious.Provide an airer. I made mine use washing line in good weather but you don't have to provide a tumble dryer, they haemorrhage money. We had a conservatory so all washing went there - never on radiators. Also never agree to long term, just month by month only.
Rosalind Mercer
- 5-Aug-19 @ 11:21 AM