Using a Letting Agency or Management Service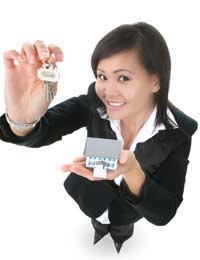 When you decide to hand over the keys and the running of your property to an agent, it's vital that you find a good, reputable agent who you feel at ease with, and can trust with what's probably your most valuable possession.
Finding an agent isn't hard, but as with all professional services, some agents can be more reliable than others. As a general rule of thumb, it's best to look for a letting agent who has a professional membership of one of the organisations that oversees letting agents, such as:
The Association of Residential Letting Agents
The National Association of Estate Agents
The Royal Institute of Chartered Surveyors
Although membership doesn't guarantee a harmonious relationship between you and your chosen letting agent, it does give you some reassurance that they will follow the set down guidelines and codes of conduct drawn up by their industry, and that you will have someone to contact should you get into any kind of dispute with the letting agent.
Another good way of finding a letting agent is by asking around and getting personal recommendations.
What You Need to Find Out From Your Letting AgentFirst things first – if you are new to letting, you need to have a frank discussion with the potential letting agent and find out what they need you to do before they can act for you. You also need to make sure that they offer you the scope of service that you want from your letting. You also need to let the agent know if you want a long or short term let, and the type of tenant you're ideally looking for.
The services that a letting agent offers its clients will vary from place to place, and can often be tailored to your own wishes – at a price. Think about what you are going to want the letting agent to do, before you meet them. Things like whether you just need them to find you a tenant, or whether you would be happy to hand over the day to day running of accounts, maintenance and repairs to the agent are important factors to decide well before that first meeting.
Most letting agencies will offer a complete management service if that's what you want, but don't accept the first quote you're given, be prepared to ask around and find out what different agencies charge for different levels of service. , Find out exactly what you'll be paying for, and what comes inclusive as well as what you need to pay extra for.
Differing Services
Some letting agents exclusively deal with residential lettings, although it's common to find that high street estate agents will have both a lettings and a sales side. If you're going with an estate agent, you need to be sure that they put as much energy into their lettings business as they do the sales side, because in some cases although agents will happily show potential buyers around houses at weekends and after hours, they aren't always so keen to traipse around with potential tenants in evenings.
It's common for letting agents to let your property on a 'no let, no fee' basis, and there's nothing to stop you choosing to appoint more than one agent so that you double your chances of letting the property faster. Check first to see whether the agent you're considering will charge you for just including your property on a rentals list.
As with all services – beware letting agents offering very low fees. You might find that if there are problems down the road with a tenant, they are no help at all, and attention to detail may well be lacking. It's best to look at the service – find a letting agent who you feel comfortable with, and who you believe will be able to offer you the service you need. If they have other properties similar to yours on their books, and have a client list that includes the type of tenant you've envisaged for the property (young professionals, singles, families...) you have a better chance of getting a good tenant reasonably quickly.
You might also like...