New Laws When Converting Your Property for Student Lets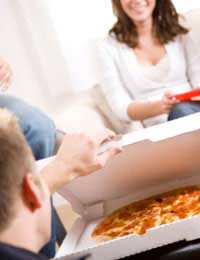 Letting out a larger property to students has long been seen as a profitable way to turn a larger house into a good income in a student town or city. Although for many years there have been certain regulations that cover letting a House of Multiple Occupation, or HMO – it's always been fairly easy to convert a property into a residence that's suitable for student accommodation and make a substantial profit from the rental income.
The Current Situation with HMOs
Until now, there has been no need for planning permission to convert a property in to an HMO, unless it's intended for six or more people to live in it. The current rules set out the definition of an HMO as 'a property which is let to three or more tenants who share amenities (or the house lacks them) and form two or more households.'
The law also places a definition on a household – this means that two friends sharing one property would be considered two households, but two people who are related or who are living together as a married couple would be considered to be one household.
Under the Housing Act 2004, a landlord of a HMO also has to provide certain facilities and conform to certain safety requirements, or else risk a hefty fine.
'Student Towns'
The government has identified several areas across the UK which have prompted them to look at ways of reducing the problems caused by a high concentration of students.
Bath
Nottingham,
Southampton
Leeds
York and
Loughborough.
In addition to this, there have been campaigns from community groups from 30 different towns on the issue of student accommodation, prompting a government consultation on how to tackle the issue. The consultation, which has now closed, generated responses from councils, resident's associations, universities, MPs, councillors, and diverse campaign groups.
The consultation was launched because of concerns about the high density of student accommodation in some towns, and people complaining about student accommodation in residential areas. It was claimed that the students were responsible for anti-social behaviour, and that high levels of student accommodation led to distorted property prices. Another complaint was that when they went home in the holidays there was nobody about and some of these areas were virtual ghost towns – so although the residents don't particularly want students in their area – they don't want them to go home either!
The Plans
The government plans to tackle the problems by making it necessary for a landlord to seek planning permission for any HMO – not just a property with more than six residents. The plans are likely to be brought into being through changes to the existing planning laws - changing the existing Use Classes Order 1987 – a piece of legislation that lets councils control undue concentrations in specific types of property – and giving local councils greater control over HMOs that way. It's also likely that controls will be introduced to manage the distribution of HMOs, using the local planning system to set up what will be called "areas of restraint".
The Response
Predictably, students and potential landlords of student accommodation are not happy with the move – saying that students will be forced to live in virtual ghettoes away from city and town centres, and also that the plans contradict the social integration policies that have long been championed by governments. The move is also expected to drive up the price of rentals for students, not to mention lower paid and young professionals who might be sharing a house while they save up to get onto the housing ladder.
Moving students out of the traditional areas could also hit the incomes of some local businesses who rely on their custom.
The National Union of Students is campaigning to keep the laws as they currently stand, arguing that students should be able to live close to one another in established communities.
You might also like...
I enquire about I have. 4 bedroom house I was fook to put as a student accommodation
Baljit
- 3-Mar-23 @ 11:59 AM
Hi. We live in a farm area with houses of families and older people. The 3 bed semi detachedhouse next door to me was sold to a foreign gentleman who has rented it out to a son and now 4 other students to live. This has therefore gone from a quiet road to having 5 cars outside their house and noise at night. It is definitely not a student area. Is there anything I can so or can anyone just convert a house to student properties. Thanks Emma
Emz
- 22-Sep-22 @ 9:52 PM